Project Type:
Theatre
Category:
Artwork
Client:
Anarchy Dance Theatre
Year:
2019
Location:
National Kaohsiung Center for the Arts (Weiwuying)
#Performing Art
#New Media Art
#Stage Design
#Smoke
#Generative Art
#Optical Flow
The Eternal Straight Line


This is the third piece of artwork that Anarchy Dance Theatre collaborated with Ultra Combos.

Just as what dance choreographer Jeff Hsieh wrote, "What's the end of death? It is like a lake, where people always look to the bottom of the lake, trying to comfort the wandering souls in the spiritual realm, but forget that the human world is the spiritual realm. So, is the final wandering soul a living person or a spirit of the dead? How far can death go? It is also like a black hole, an eternity where light cannot enter, guarding the end of time. That is the place where the most inferior equality of humanity exists.

If one day, one rides the light of technology and crosses the border of death, then, over there, what kind of place will "life" be? Being born from death and being thrown into the fire and ashes. In the unnamed habitat where living creatures linger like smoke, the appearance of the existence of all things is reflected. After the fog clears, the lake also becomes clear, and life and death will then be redefined."

This time we tried to let the models be composed of smoke, combining light, laser, projection, and sound, and together with the dancers, and we constructed a flowing scene that discussed the proposition of life and death.

---
The Other Place – Visual Design
"The Other Place" is the original name of "The Eternal Straight Line." "The Other Place" is a situation, while "The Eternal Straight Line" is a question to the audience. The development of the concept of this artwork is just like its name change. The entire team started out with the situation, and with dialectic and reflection, the team ended up taking it down a notch and headed towards a metaphysical question.

The development process can be sorted into three stages, "the process of physical (self) death," "watching the process of death," and "the meaning of death after the emergence of technology." In the end, these also became the core vocabulary in the bare bones of the text and visual development.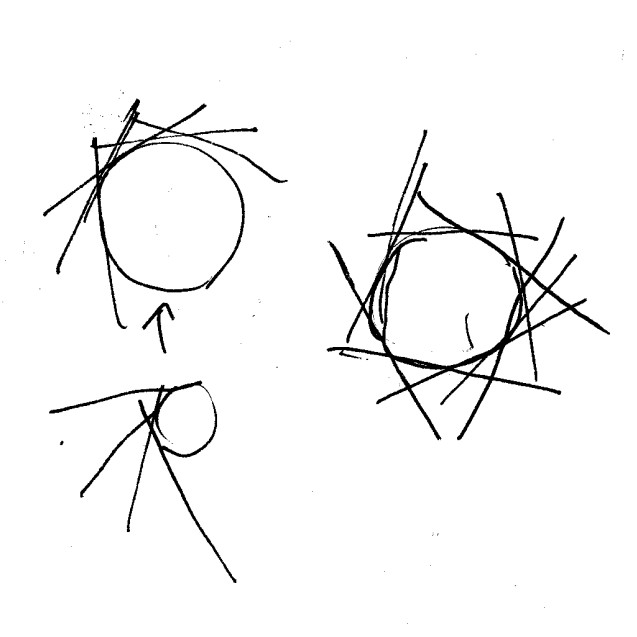 ---
Another Dancer – "Smoke"

With the theme of life and death, the characteristic and image of having faintly uncertain movements made "smoke" the most suitable medium, and, thus, smoke naturally became "another dancer" on the stage.
The first issue is "controlling the form and movement of smoke."
Even though it's a short sentence, it is actually a project with quite a threshold, because the different variables that may change the smoke include being at different venues, humidity, temperature, temperature differences, and invisible convections. Shu-Yu drew up a sound experiment to test the process, completing many structural smoke controls.
The second issue is "how to use light to shape the various forms of smoke."
There are many possibilities with light, we also tried as many kinds of light-generating media as possible, such as traditional lights, computer lights, projection, and laser. The collaboration of the various light sources with smoke all have completely different textures, so there was no need to choose, they just need to be placed in the sections that fit the text.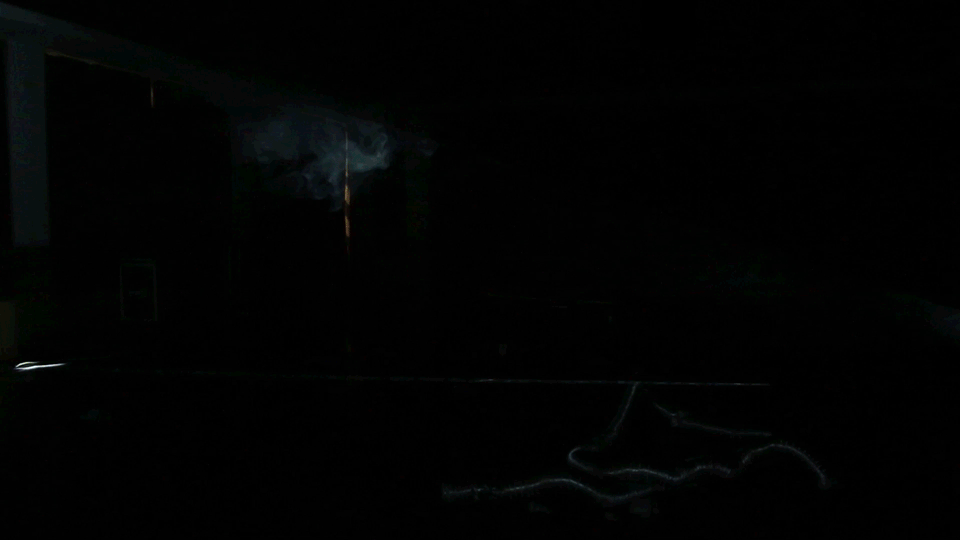 Because it has even more possibilities, in the early stages, we tested more than 100 kinds of materials of various pictorial structures, colors, and movements, and, slowly, we understood and mastered the image of the materials on different types of smoke. In order to seek the oneness of the overall picture, smoke, and dancers, the smoke and dancer detection system (Optical Flow) was introduced, and some parts used programs to depict the picture and movement (Generative Art), so that the projection content can be changed in response to the smoke and the dancers' postures and corresponding pictures can be generated instantly.
Optical Flow
Generative Art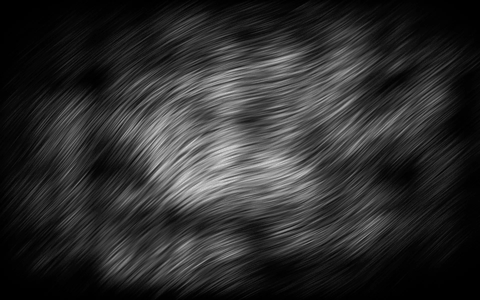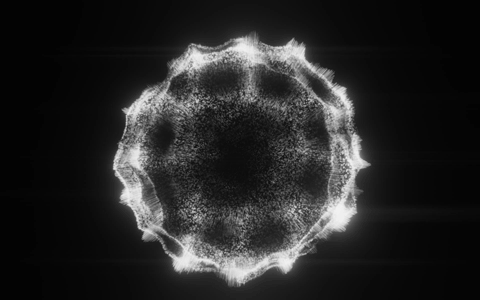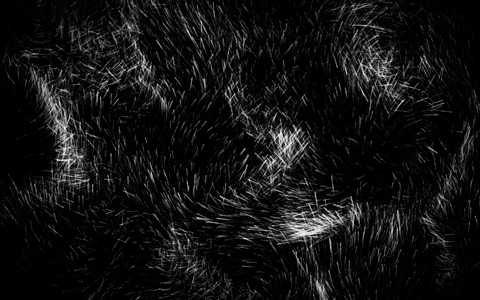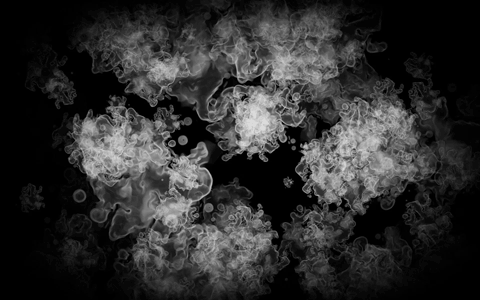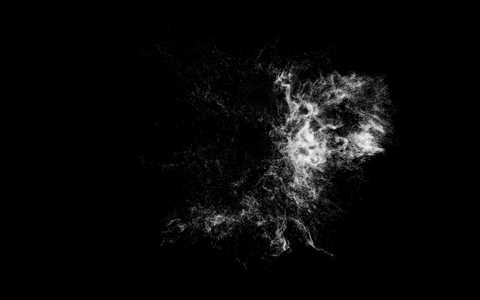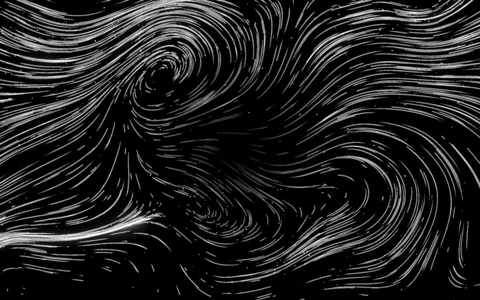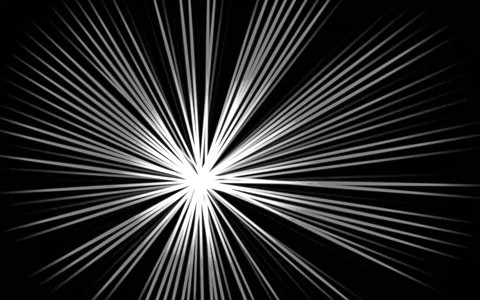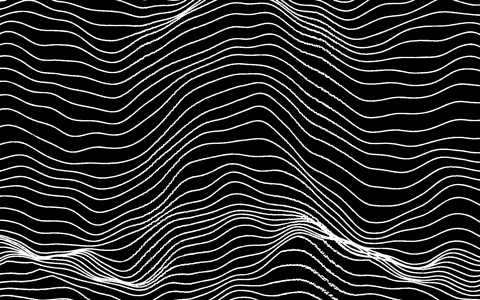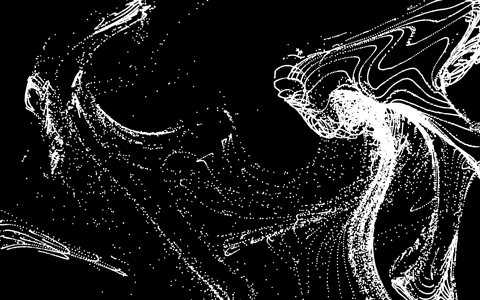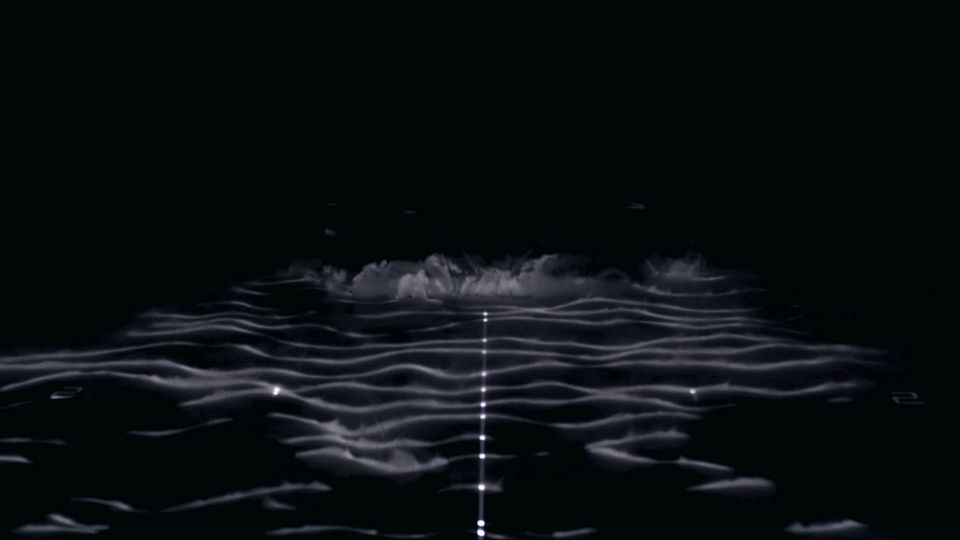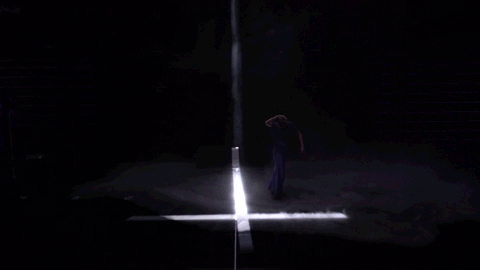 ---
Building of Theater Worker-Oriented System
In the past, when we collaborated with theater workers, we always each used our own systems to process content at the same time. After understanding the concepts (cue, fixture, patch, and channel) and operation (interface arrangement, logic of control, and hardware operation) of the lighting system, we realized that integrating the system into the lighting control platform grandMA2 is a feasible method with significant benefits.

After a series of evaluations and implementations, the team successfully integrated and interlocked Unity and grandMA2 by using the OLA program framework to convert Art-Net signals to OSC signals. After Unity receives the OSC signal, it can be bound to any internal parameters. We, then, discussed the suitable binding method with the lighting control personnel according to the needs.

Under this framework, the logic of controlling the projection visual is consistent with that of computer lights and smoke. The lighting control personnel and stage managers can use the same system to complete all adjustments, scheduling, and performances.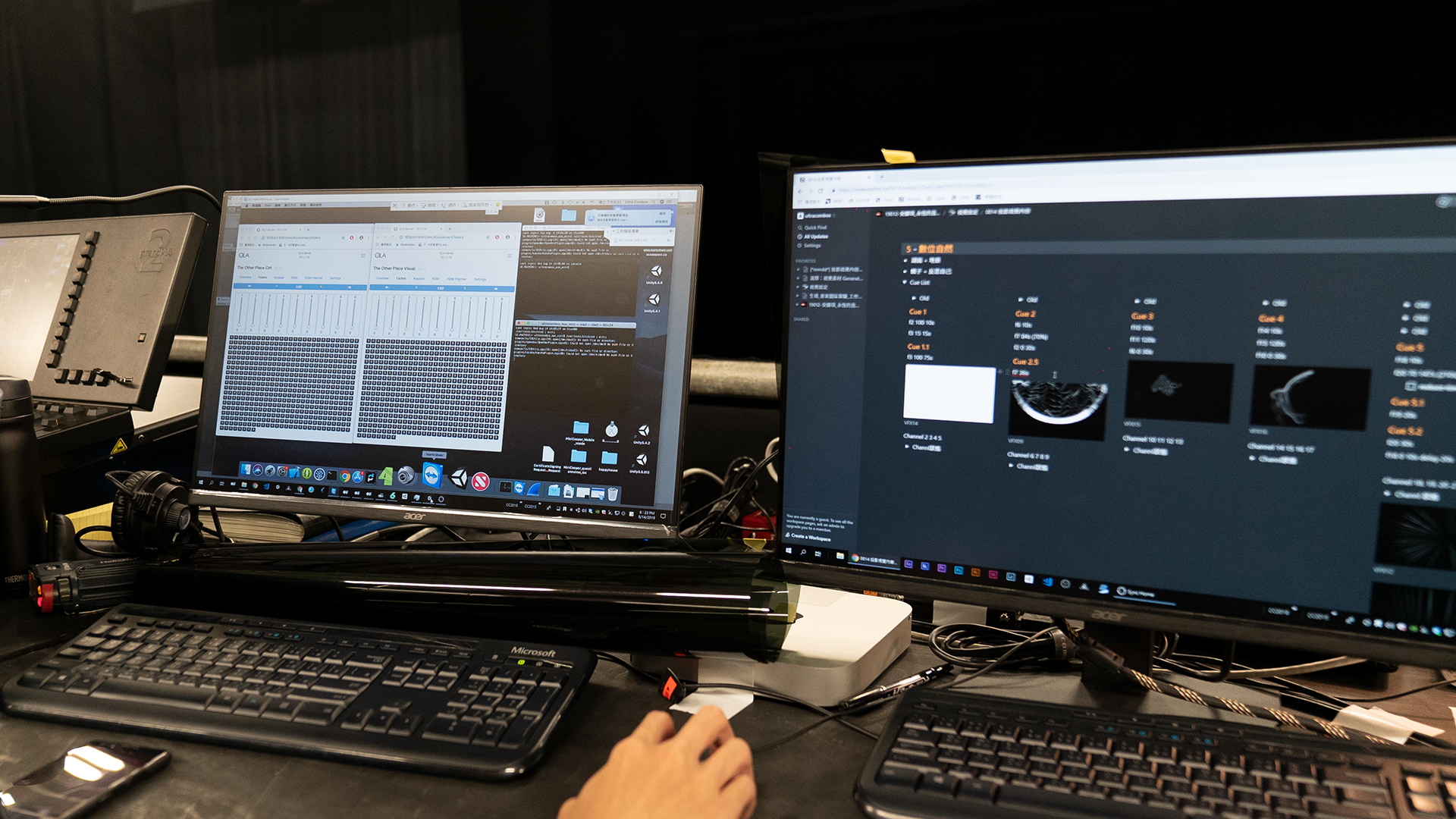 ---
Creative and Production Team
Production:
Anarchy Dance Theatre
Director / Choreographer:
Jeff Chieh-Hua Hsieh
Production Consultant:
Jessie Lin, PROJECT ZERO Performing Arts Management
Dance dramaturg:
Xiang-jun Fan
Dancer:
Shao-Ching Hung, Chun-Te Liu, Han-Hsing Kan, Hsiao-Tzu Tien, Kuan-Jou Chou, Viktorija Semakaitė
Technology Coordination / Visual Design:
Ultra Combos
- Project Manager:
Jay Tseng
- Project Producer:
Wei-An Chen (@chwan1)
- Art Director:
Lynn Chiang
- Generative Art Designer:
Ke-Jyun Wu
- Visual Production:
Hauzhen Yen, Ting-An Ho, Ayuan Deep
- Programmer:
Ke-Jyun Wu, Nate Wu
- Technical Assistant:
Herry Chang, Syu, Fang Jing, Chianing Cao, Alex Lu
Technical Coordination:
We Do Group
- Lighting Design:
Dazai Chen, Yi-Hsin Chen
- Technical Director:
Jheng-kuan Lee
- Audio Technical Director:
CHOU Wen-Ming
Cloud Design:
Shu-Yu Lin
Cloud Design Assistant:
Wei Huang, Yu-Liang Lin
Sound Design:
Yannick Dauby
Sound Operation:
Nigel Brown
Costume Design:
JUBY CHIU
Stage Manager:
Hsiang-Ting Teng
Production Coordinator:
Hsiao-Fan Tai
International Programs Coordinator & Marketing Promotion:
AxE Arts Management
Key Visual Design:
Shiun-Huan Lee
Video Record:
Chen Yishu, Zheng Jingru, Zhang Borui, Foufa Studio (Cai Bingxiao, Zheng Manzi, Wu Zhaochen)
PV:
Foufa Studio, Ting-An Ho
List of thanks:
Antari Yu'an Lighting Enterprise Co., Ltd., He Youying, Wu Hongyu, Li Jiaru, Li Tingyu, Du Yingying (Qianmo Institute), Director Lin Zhengxun (Taipei Hakka Music and Drama Center), Professor Lin Zhaoan, Lin Zheli, Lin Mi, Bingguan Co., Ltd., Zhang Shanting, Zhang Junhe, Zhang Zheji, Xu Shangyuan (Minwei Video Engineering Co., Ltd.), Xu Youwei, Chen Jialing, Chen Xi, Chen Yanrong, Peng Jiajie, Yang Yixuan, Wen Sini, Wan Yuren, Zhan Haoyu, Liao Yuanyu, Guan Yixiang, Spotlight Workshop, Xie Youcheng, Yan Yining, Luo Yishan
Instructor:
Ministry of Culture
Creative support:
National Kaohsiung Center for the Arts (Weiwuying), TAIWAN TOP Performing Arts Group
Venue Cooperation:
Taipei Hakka Cultural Foundation, Taipei Art Sound Space Network, New Beitou 71 Park, Performance Arts School 36
Sponsors:
ChinLin Foundation for Culture and Arts, Interplan Group
Makeup sponsor:
Laura Mercier
Related Works:
2019 DigiWave - Treasure

The team received an invitation to participate in the DigiWave event and to work together with musician Lim Giong to create an installation and a performance.
DigiWave is a digital trend that talks about the development trend of digital industries in Kaohsiung City. Digi is the means, and Wave is the ideological trend, flow, and also communication. We hope that through DigiWave each year, we are able to ask the crucial question to an important issue in our lives. Communicating through technology and presenting through the forms of exhibitions and events, we hope to bright about the next wave in the progression of life.
This year, with ocean as our proposition, we introduced two exhibitions, two performances, and two themed markets. This series of performances and events include the themed exhibition 《大海裡的迴旋踢》 of the same name, which lets people experience the future sea world.-
---
GitHub Link ︎

---
Concept
Seeing half of the beautiful seashell buried in the sand at the beach.

We always pick it up subconsciously, place it next to our ear, and, for some unknown reason, say that it's the "Sound of the Sea."

Shellfish are like the sculptures of God. From color, material to shape, they all contain pure, yet extremely complex constitution aesthetics.

This "Treasure" project is based on the deconstruction of the beauty of shellfish. These are taken from nature and using new media as the medium, these are re-translated into sounds and visuals.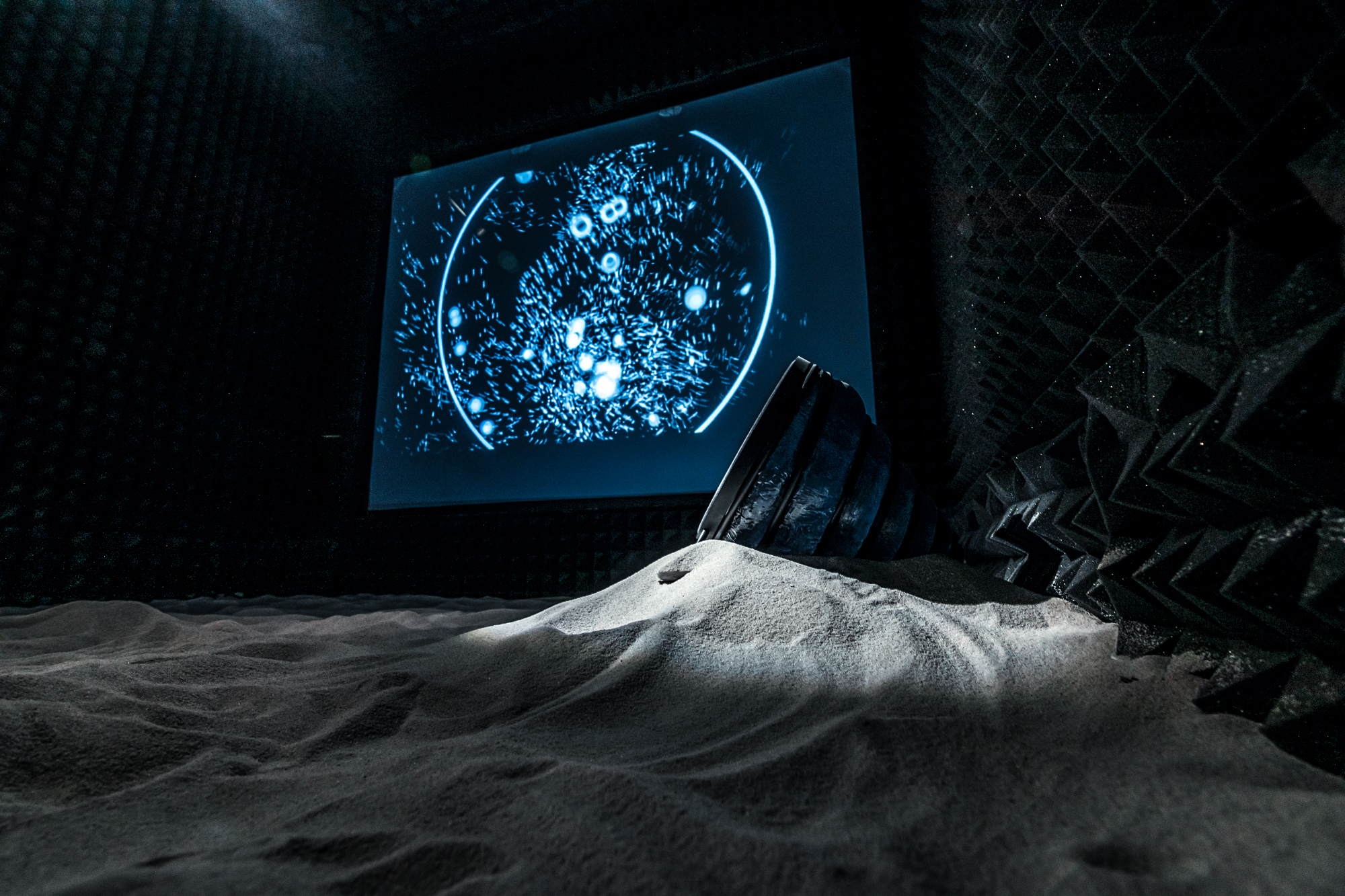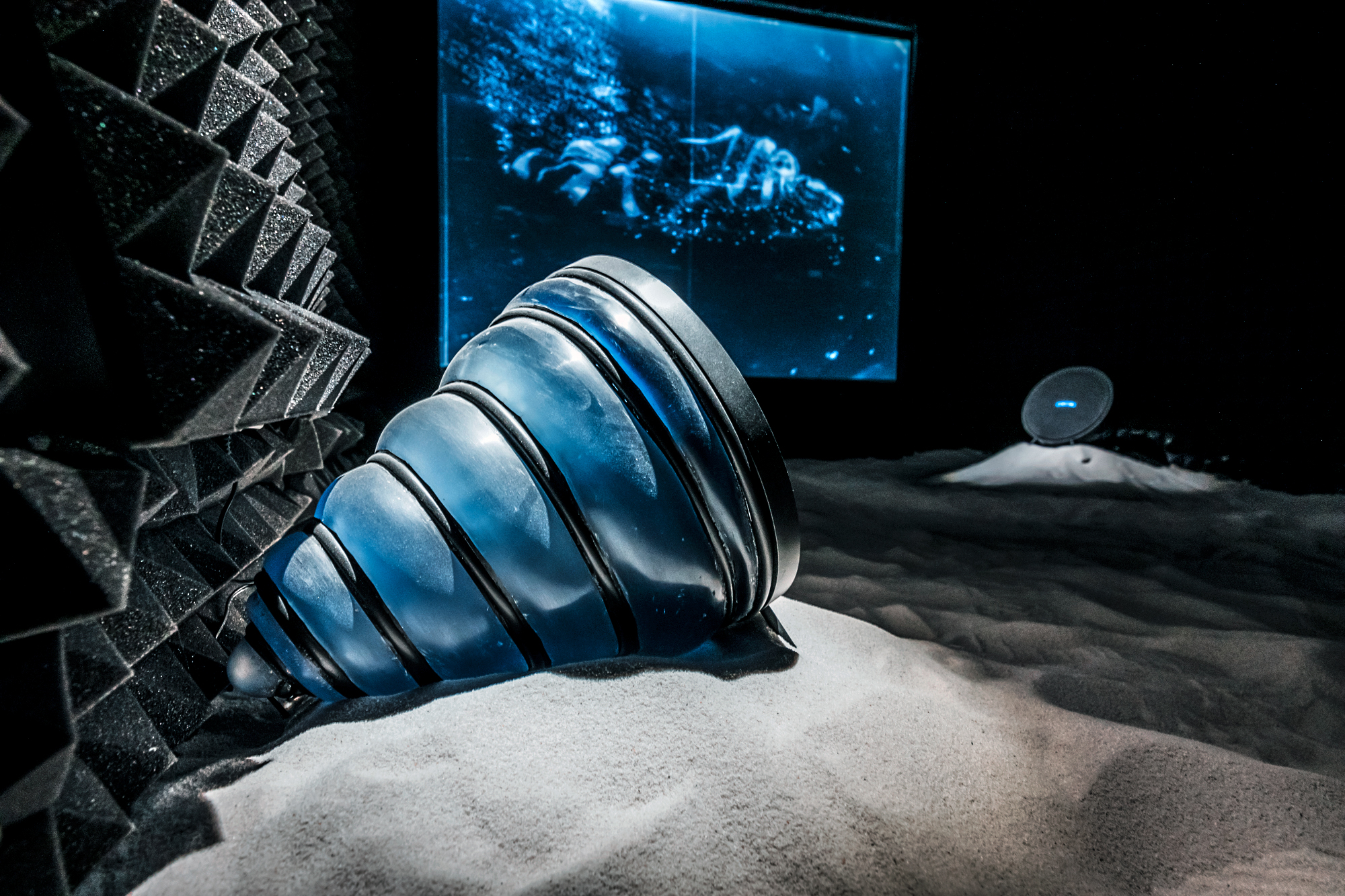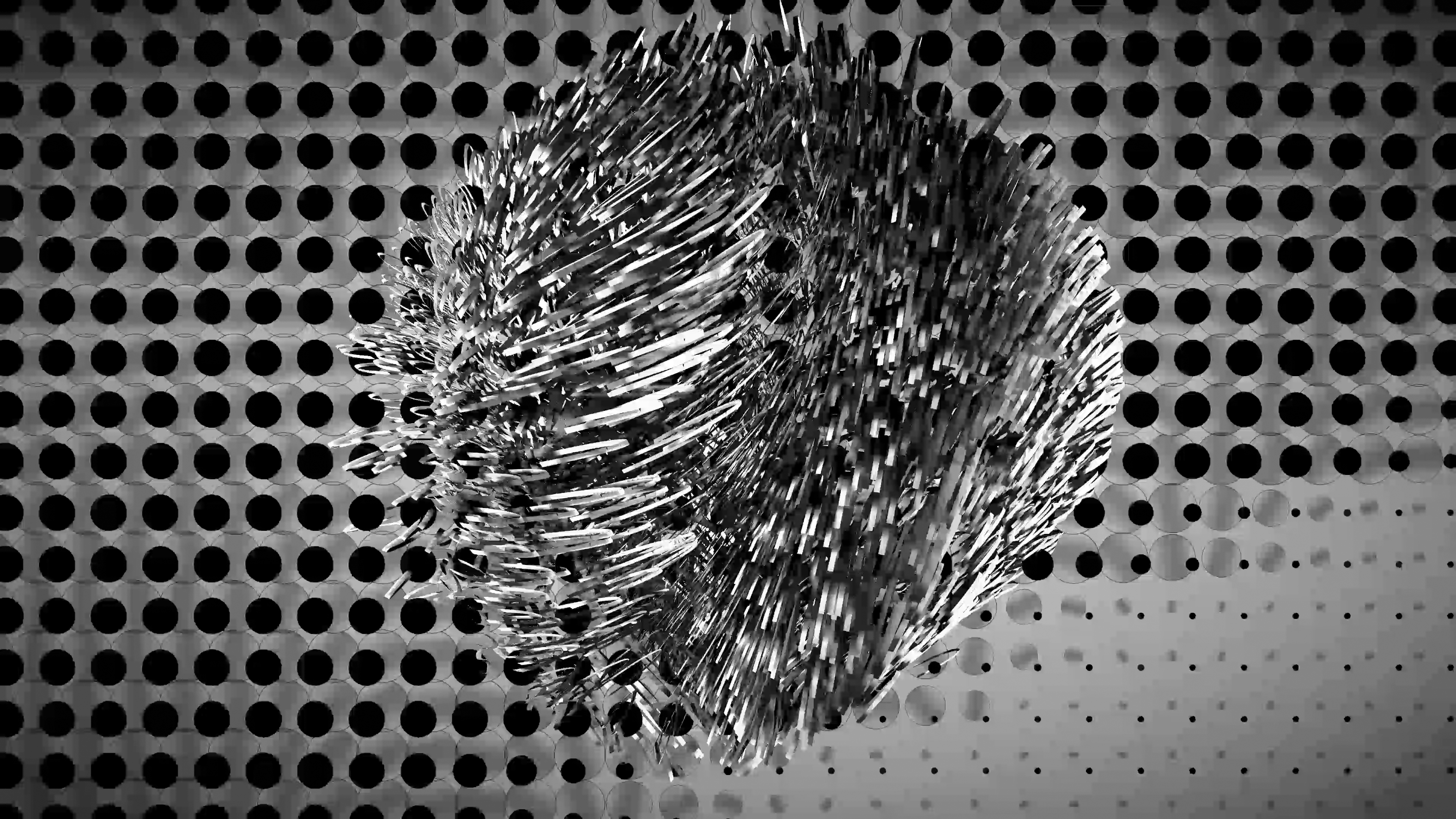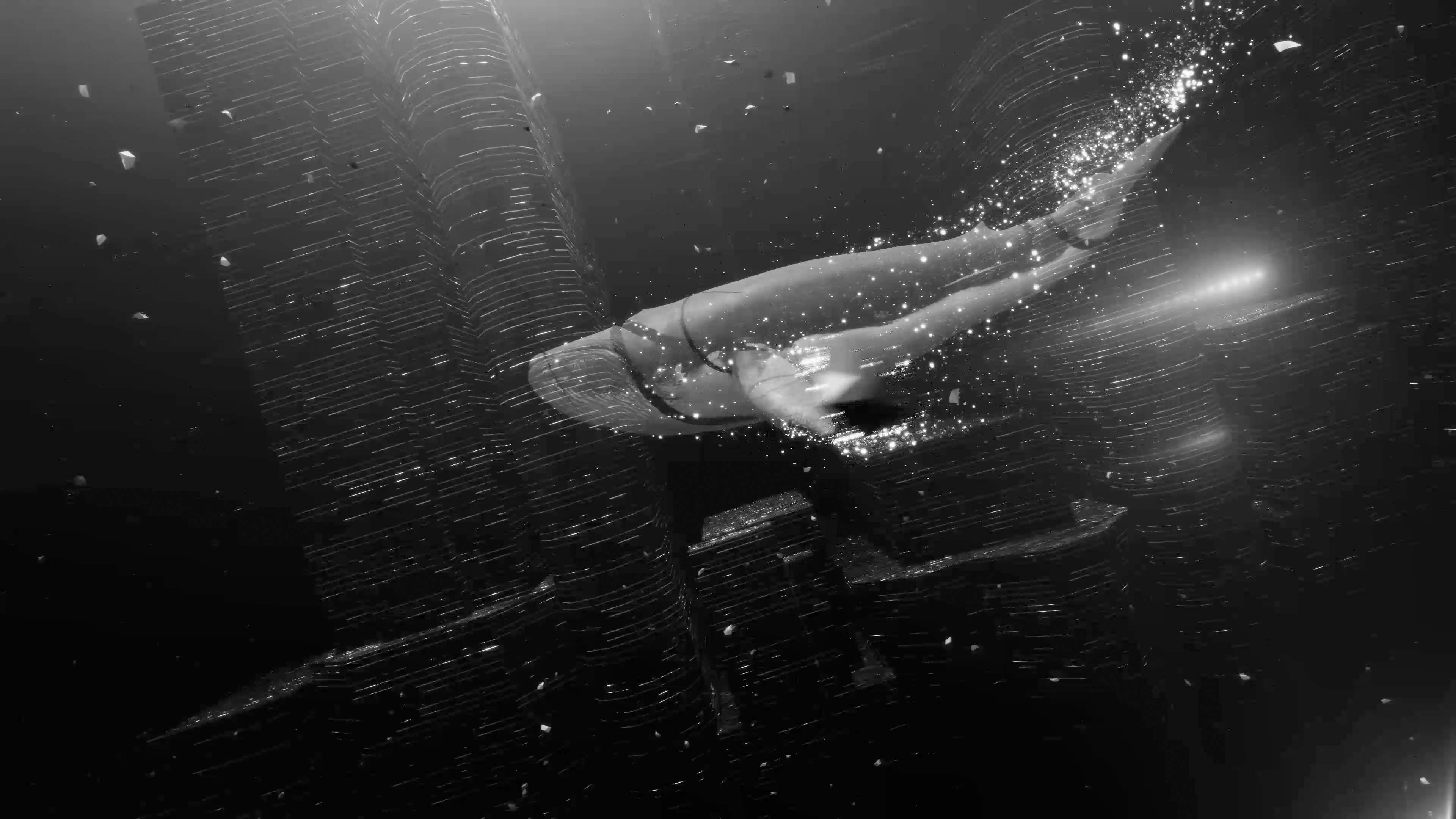 2019 DigiWave - Treasure
Adviser: Kaohsiung City Government, Industrial Development Bureau
Organizer: Economic Development Bureau, Kaohsiung City Government
Implementer: Taiwan academia industry consortium, Institute for Information Industry, 3080s Local Style
Curator:
Chiu, Cheng-Han, Ruby Ting
Artwork by
Ultra Combos
Live Audiovisual Performance

Producer :
Jay Tseng
Generative Artist:
Ke Jyun Wu, VJ Youji
Technical Execution:
Wei-An Chen (@chwan1)
Visual Jockey:
VJ Youji
Composer / Sound Mixing :
Lim Giong
Disc Jockey:
Lim Giong
Hardware Integration:
CDPA
Installation

Producer:
Jay Tseng
Generative Artist:
Ke Jyun Wu, VJ Youji
Visual Editing:
Ting-An Ho
Technical Execution:
Wei-An Chen (@chwan1)
Installation Artist:
Ta Chung Liu
Composer / Sound Mixing :
Lim Giong
Related Works:
Project Type:
Event
Category:
Exhibition, Event
Client:
Marvel Studio│Beast Kindom
Year:
2018
Location:
Singapore ArtScience Museum
#Marvel
#Avengers
Marvel 10th Anniversary Exhibition

Since Marvel Studios introduced its first movie Iron Man, the movie universe of Marvel Studios was opened. During this past decade, many classic heroes were shaped on the big screen, such as Captain America, Black Widow, The Hulk, Thor, Scarlet Witch, Guardians of the Galaxy, and Ant-Man.

In order to celebrate the 10th anniversary of Marvel Studios, Ultra Combos was entrusted to participate in creating the Marvel Studios: Ten Years of Heroes exhibition, reproducing the classic scenes in Marvel's vast universe. With the popular heroes all standing in a line and through the experience of immersive space, the audience is guided to walk into the first grand decade of Marvel Studios together.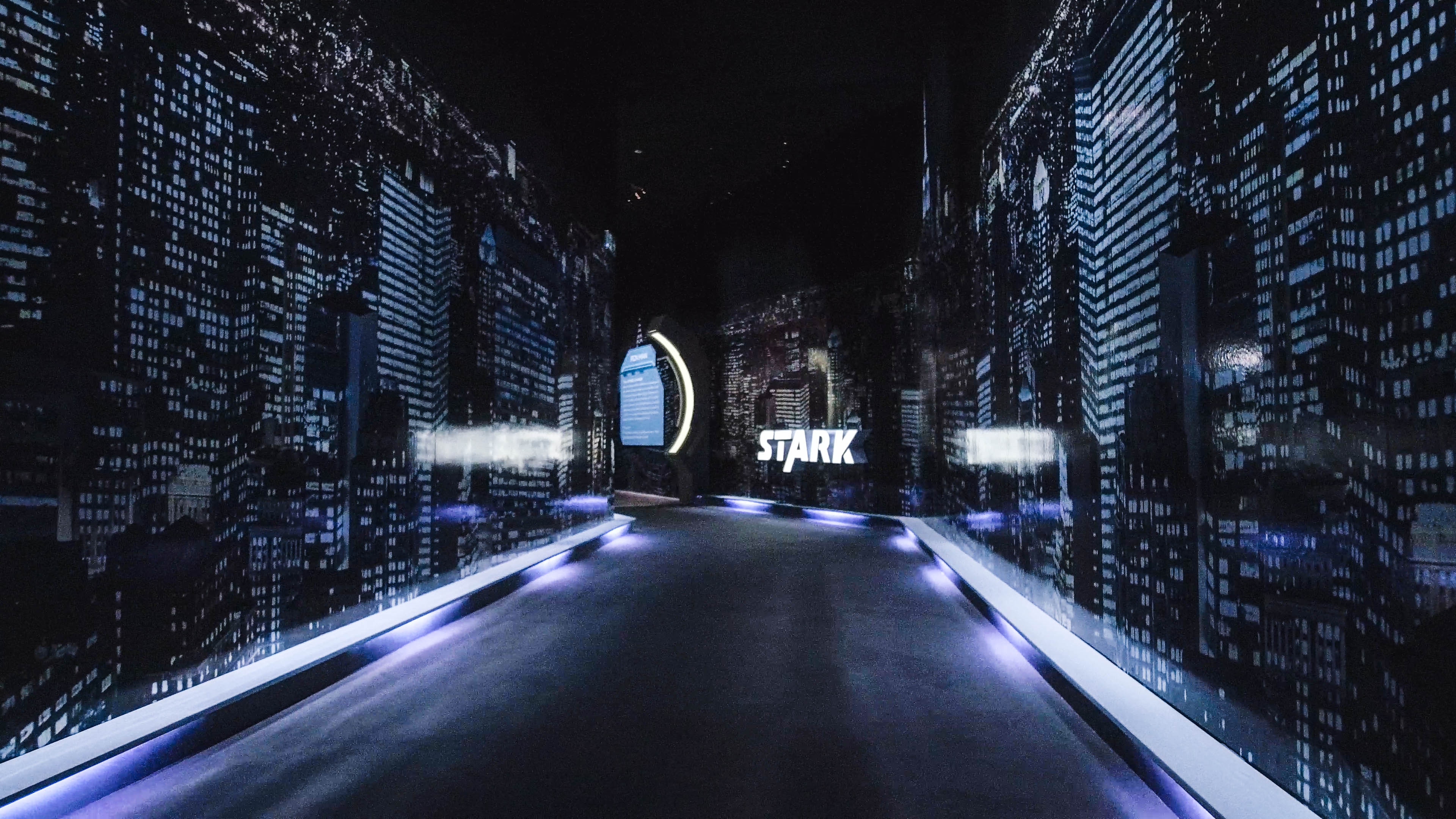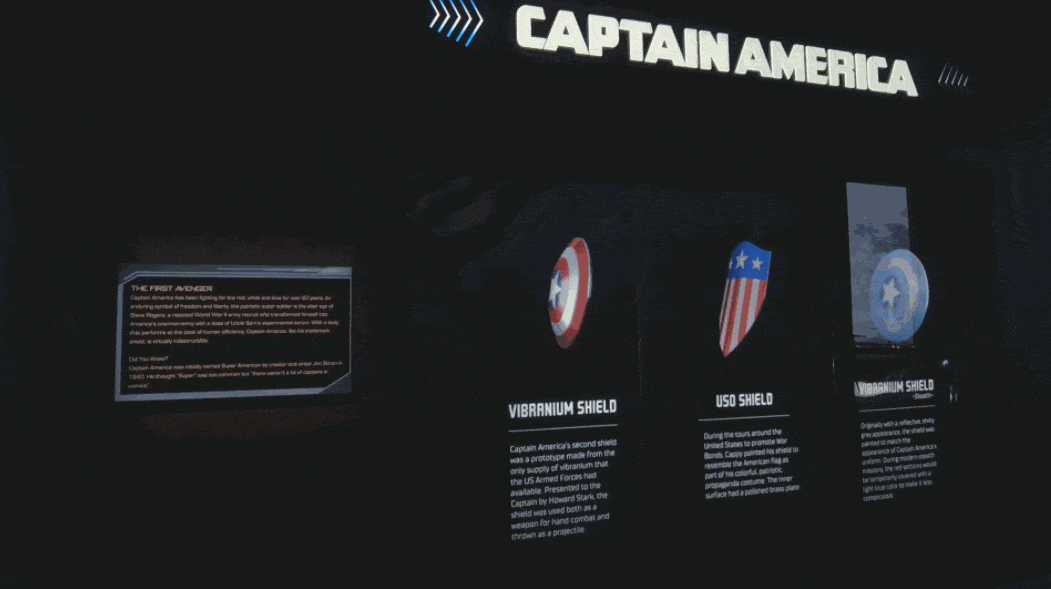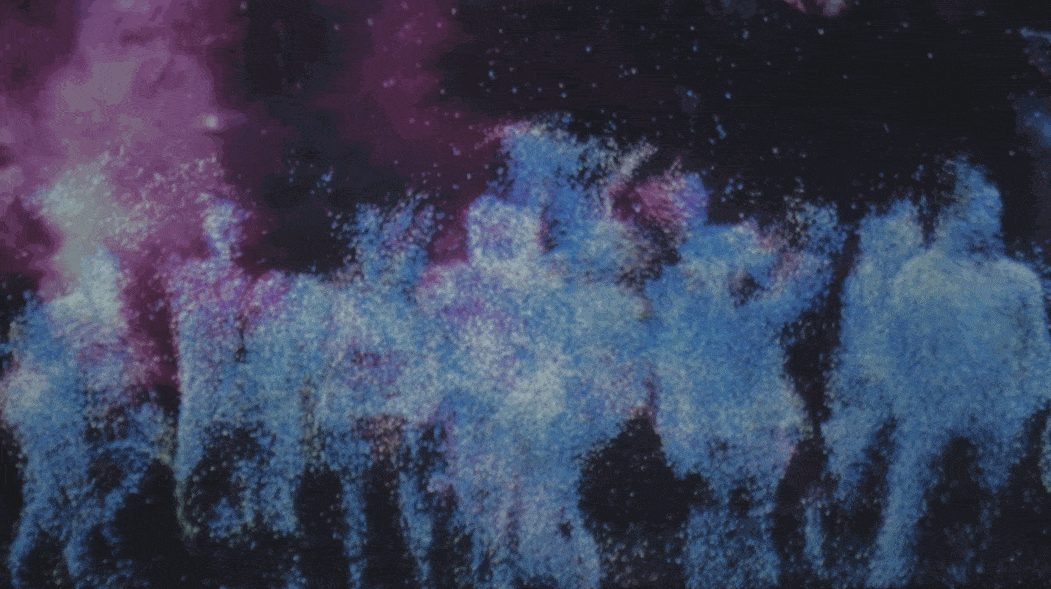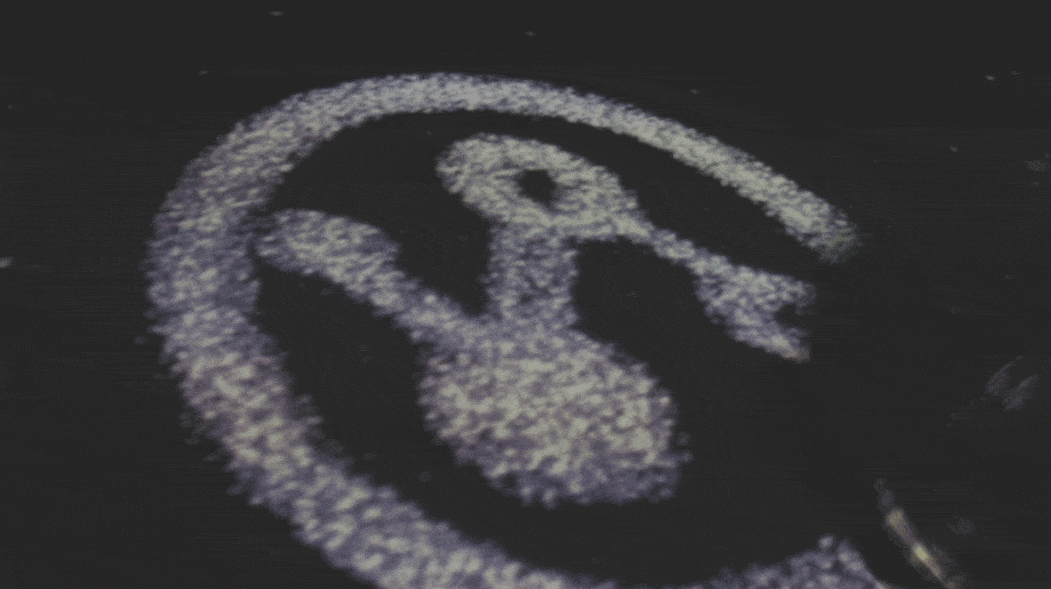 Marvel 10th Anniversary Exhibition

Curation:BEAST KINGDOM CO., LTD.
Producer:Herry Chang
Project Manager:Tim Chen
Creative Director:Tim Chen
Technical Director:Herry Chang
Programmer:Kyosuke Yuan、Hoba Yang、Nate Wu、Herry Chang、Yen-Peng Liao、Wei-Yu Chen
Art Director:Chris Lee
Concept & Storyboard:Chris Lee
UI/UX Design:Chris Lee
Visual Assistant:Jia Rong Tsai
Generative VFX (Dr. Strange / Ant man):Hoba Yang、Herry Chang
Motion Design (Captain America / Helicarrier / Bifrost / Theatre):MUZiXlll
Character Rigging (Theatre):Yoyo Chang

Video Installation Solution:甘樂整合設計有限公司
Hardware Lead:Herry Chang
Hardware Integration:Prolong Lai
Hardware Engineer:Wei-Yu Chen
Sound Design:The Flow Sound Design
Director of Photography:Ray.C
Photography Assistant:Ya-Ping Chang





Related Works:
Project Type: Ceremony
Category: Event
Client: 3AQUA Entertainment
Year: 2019
Location: Taiper Arena

#Laser
#rollingshutter
#audiovisualization
#webscraping
#opticalflow
#stagesimulator
G.E.M. - 30th Golden Melody Awards


In 2019, which happened to be the 30th Anniversary of the Golden Melody Awards, we were very honored to be invited by 3AQUA Entertainment to participate in the performance production this year. They hoped that there's the possibility for Ultra Combos Team to import some technical elements.

The theme to be carried out in that segment was "Streaming," where Chinese superstar G.E.M. interpreted the current TOP 10 most-viewed Chinese music videos on YouTube. With streaming as the theme, there's no doubt that "Digital," "Technology," and "Internet" will be used as the main imagery. The music styles of these ten songs are quite diverse, where a larger proportion is love songs. Having to properly arrange technology as the core form and style into the performance is a subject matter that needed to be well thought out and delicately designed.

Golden Melody Awards (GMA) is an indicative "Ceremony," where its nature is very different than a "Performance" and a "Concert." There are a lot of details and restrictions to be aware of and the schedule is quite tight. Fortunately, through communication with Visual Director Guozuo Xu and various collaborations with 3AQUA, in addition to getting advice on visual designs for the performance, we also maintained room to play with technology.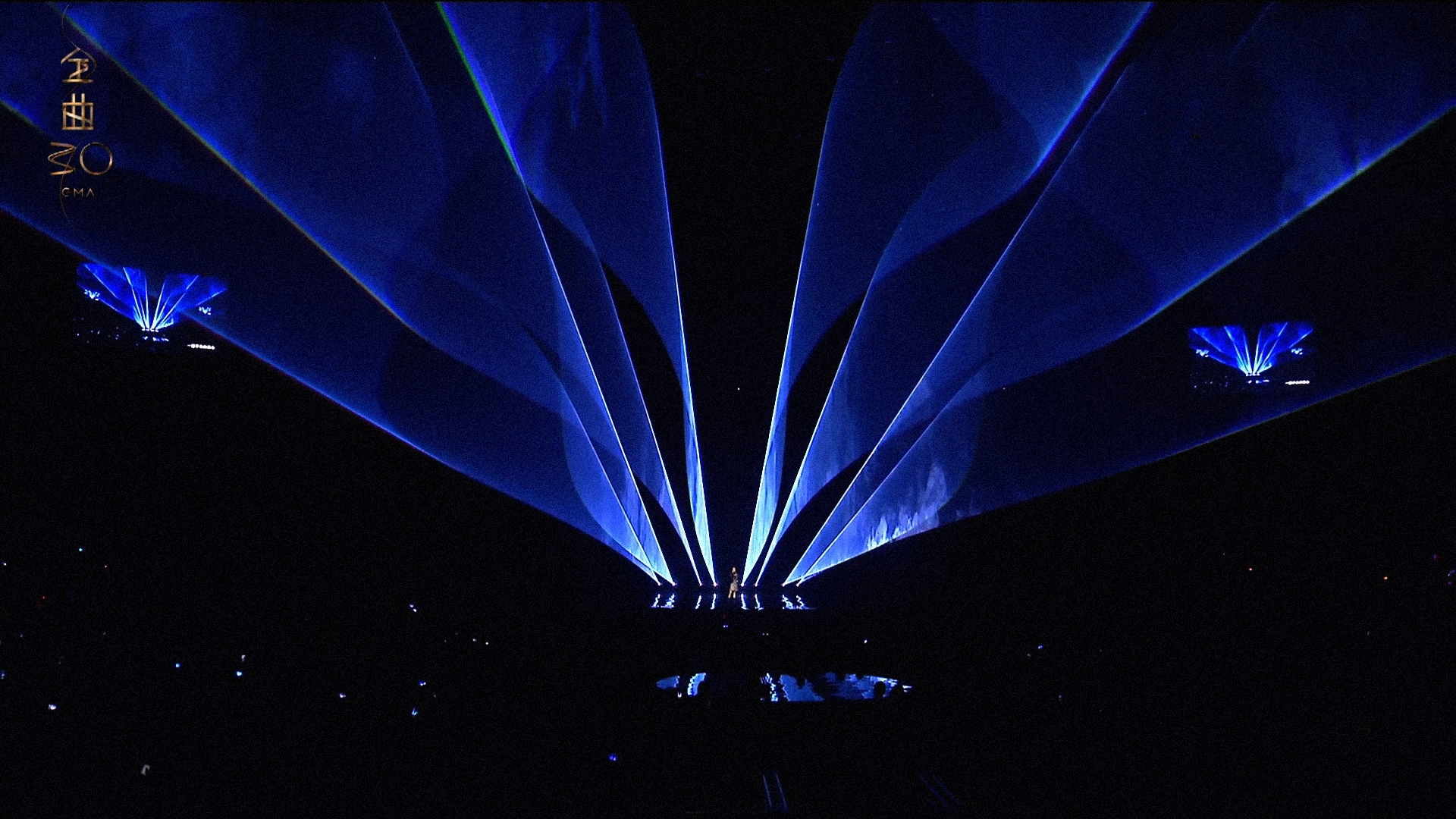 Before having begun the project, we hoped that through the production process, what we see is what we get

── the construction of a tool that is closest to the live experience


The stage used large wavy LED frames as its theme and its irregular form makes it hard for the production personnel to imagine how it looks from different locations. In addition, the resolution is equivalent to seven Full HDs, so any modifications would cost the visual personnel a lot of time. Therefore, it was necessary for us to have a way to effectively cut down on the number of back-and-forth adjustments.

Therefore, we designed a simulator, where the content produced by After Effects is immediately transmitted into the 3D game engine Unity, where, similar to playing a first person shooting game, the visual worker can walk around the GMA site and view how the visual presentation looks like.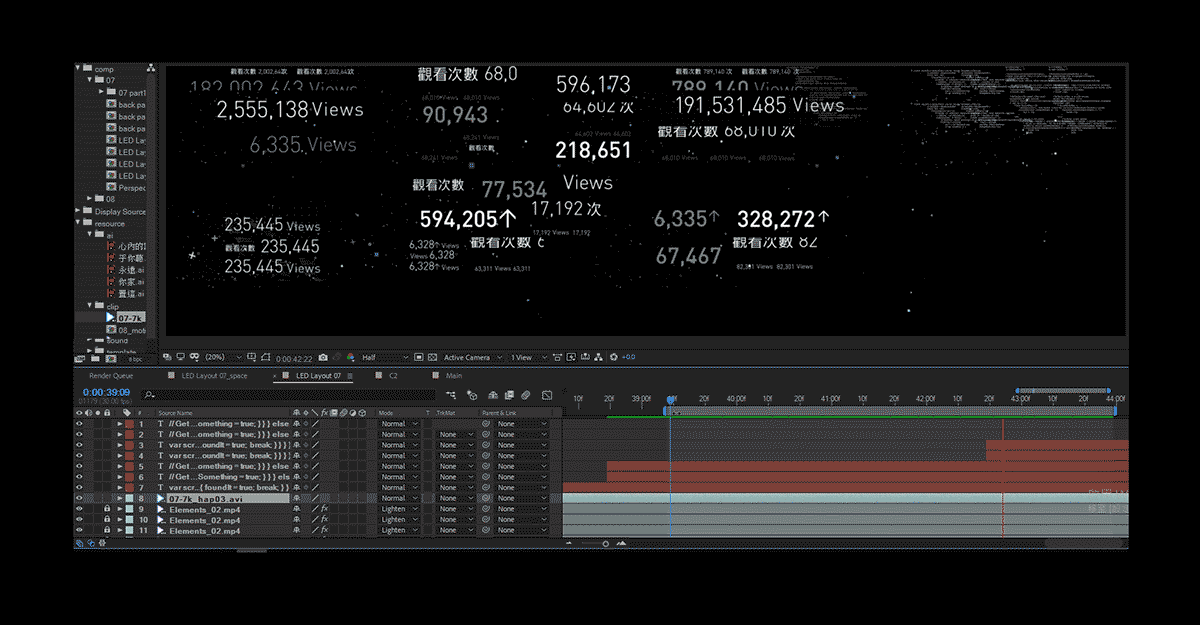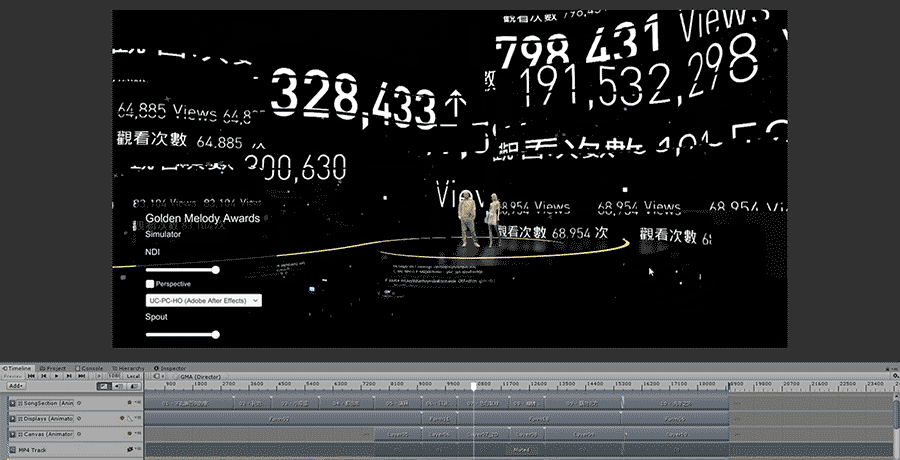 ---
Twilight
You Exist In My Song


── Composed of diffused light in the air

Laser Projector + Rolling Shutter

A strong visual effect filled with digital attributes, which also matched the style of the song, was needed for the opening. After various researches and discussions with 3AQUA, in the end, we decided to use a relevant technique, "Laser Projector" + "Rolling Shutter," to produce a light screen that surrounds the performer in the space.
This effect is a combination of two principles, one of which is the method of producing graphics with a laser projector and the other is the rolling shutter.
To avoid misunderstanding, here, laser projector refers to the laser projectors that are used to make light shows for general performances, because projectors that use lasers as their light source are also called laser projectors. It operates by a combination of shooting laser beams through mirrors rotating in different directions to achieve high-speed horizontal and vertical movements. Therefore, when we see the laser drawing out a horizontal line, it is actually a persistence of vision produced by a point moving at a high speed back and forth from left to right.
As for rolling shutter, when the photosensitive element of a digital camera is CMOS, one way of using shutter is by controlling the photosensitive element with electronic signals. It would sense row by row, so it would produce the time difference between the top and bottom. This type of electronic shutter will produce a distorted effect when filming fast-moving objects.
With these two attributes and the fine design of the camera and laser content, this effect which can be seen only through "digital transmission" is produced.
In addition, if rolling shutter lacks pre-stage testing, its final effect is completely unpredictable. We are especially grateful for the planning and coordination of 3AQUA, the testing facility and equipment assistance of ERA Television, and technical revision and equipment assistance of laser consultant 陳逸明.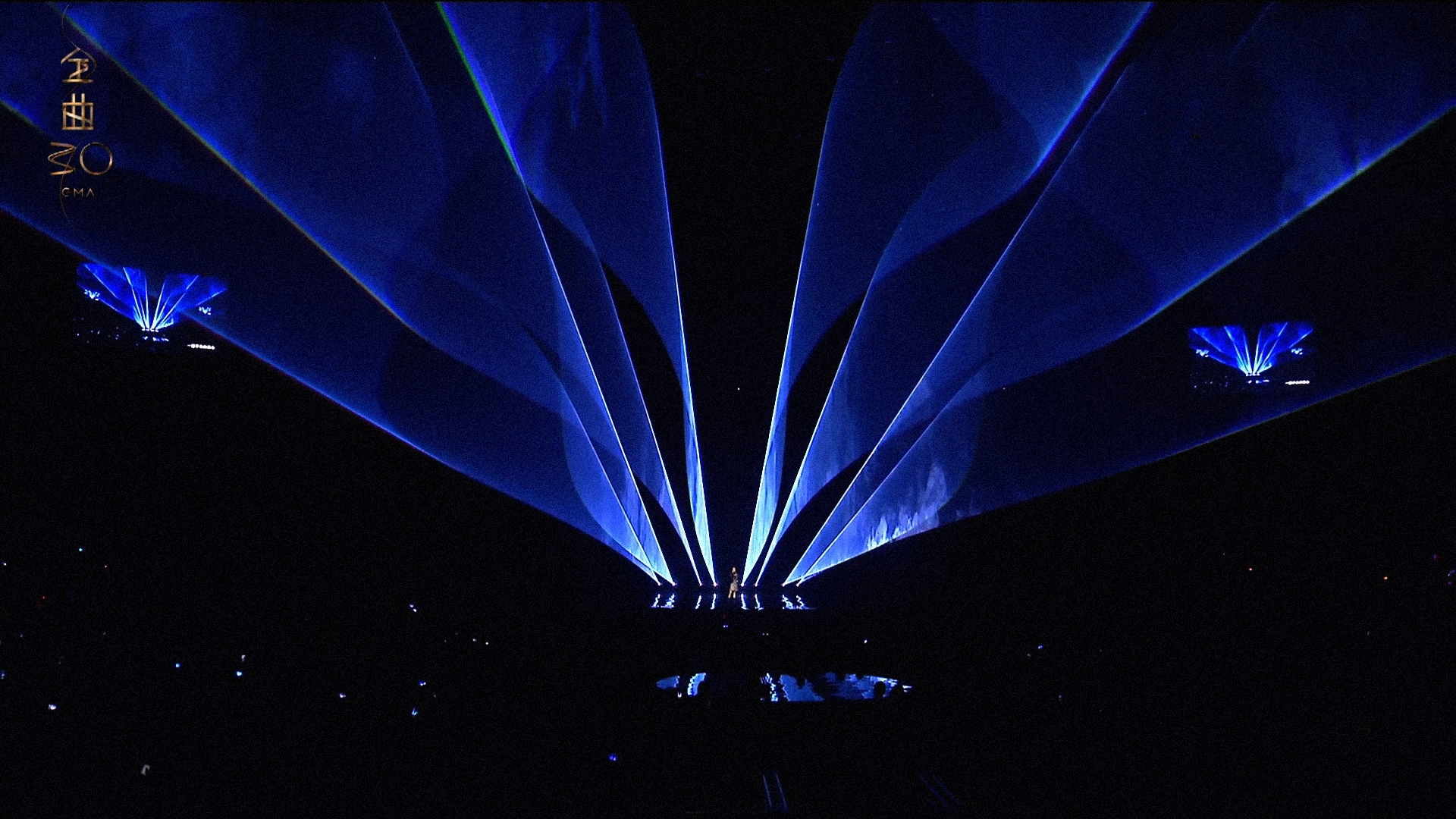 ---
以後別做朋友

── Instant visual effect using optical flow calculations


First, we'd like to thank 3AQUA for assisting us in producing the visual effect for these two songs, 演員 and 以後別做朋友, when we were in a terrible fix, so that we could focus on working with laser and the rest of the songs.

During this song, the director has set for the monitor to show the on-set live broadcast of G.E.M. and hoped to layer some effects that have the same texture as the background visuals. After studying the performance of G.E.M., we realized that she is quite expressive with her body and imagery produced by detecting motion would suit very well. However, there are numerous performances on the GMA stage and the mechanisms are quite complex, setting up any type of sensor would be a huge burden; therefore, we could only process it directly from the live screen. We felt that the Optical Flow calculation method would be the best solution. However, because we were unable to predict the clothing, background, and camera position during the actual ceremony, so, during the early stages, we tested using the other performance segments from YouTube. Fortunately, we obtained pretty good effects during GMA Ceremony.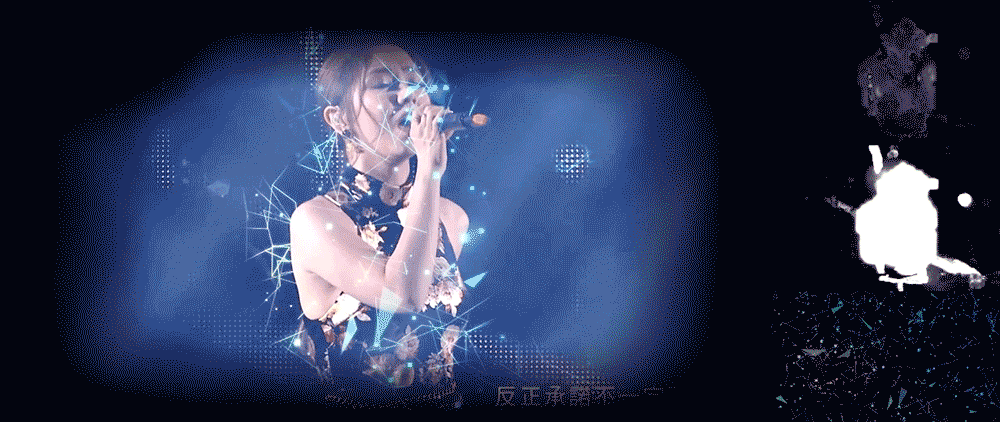 Using performance segments to test the optical flow effect
Credit: KKBOX

---
Love Confession

── Collect huge amounts of data from the Internet


This song is a segment where the change in the music style is a lot more obvious and, up until the production, it was also the song with highest views on YouTube. The director designed for the distinguishing feature of these 10 songs having over 100 million hits to be presented in this segment. In addition to the very direct and massive rise of running numbers, another important trait of this new media, the streaming platform, is the participation of the comments from the audience. In the design of the image, we hoped to layer a barrage of comments.

The technician designed a program that could convert and save comments as pictures, which greatly shortened the production schedule of the visual production personnel.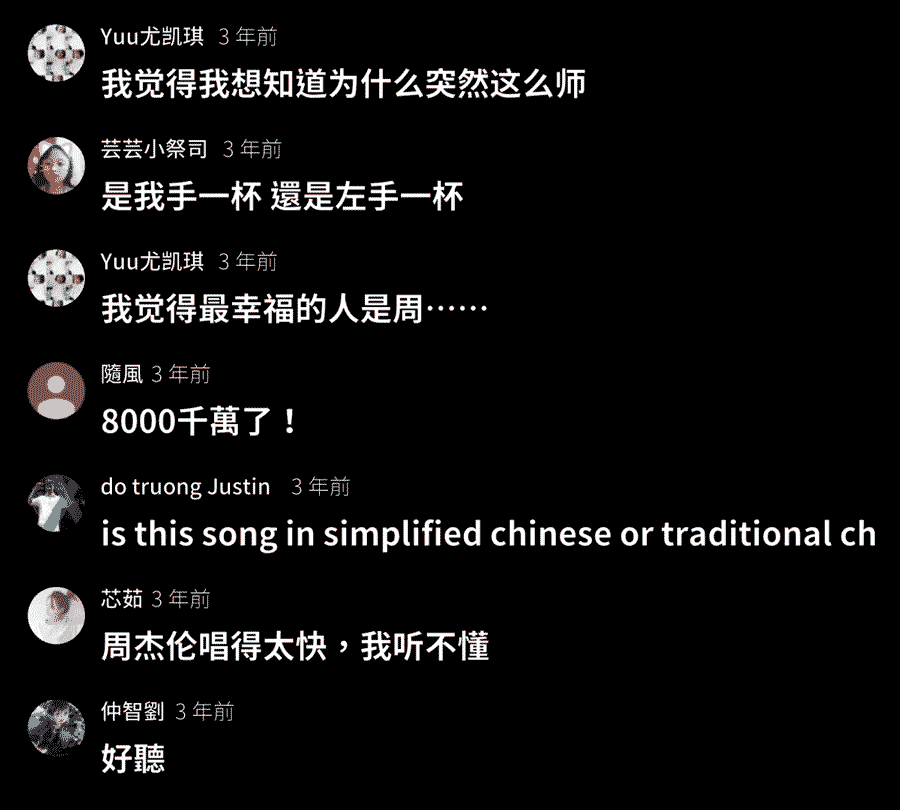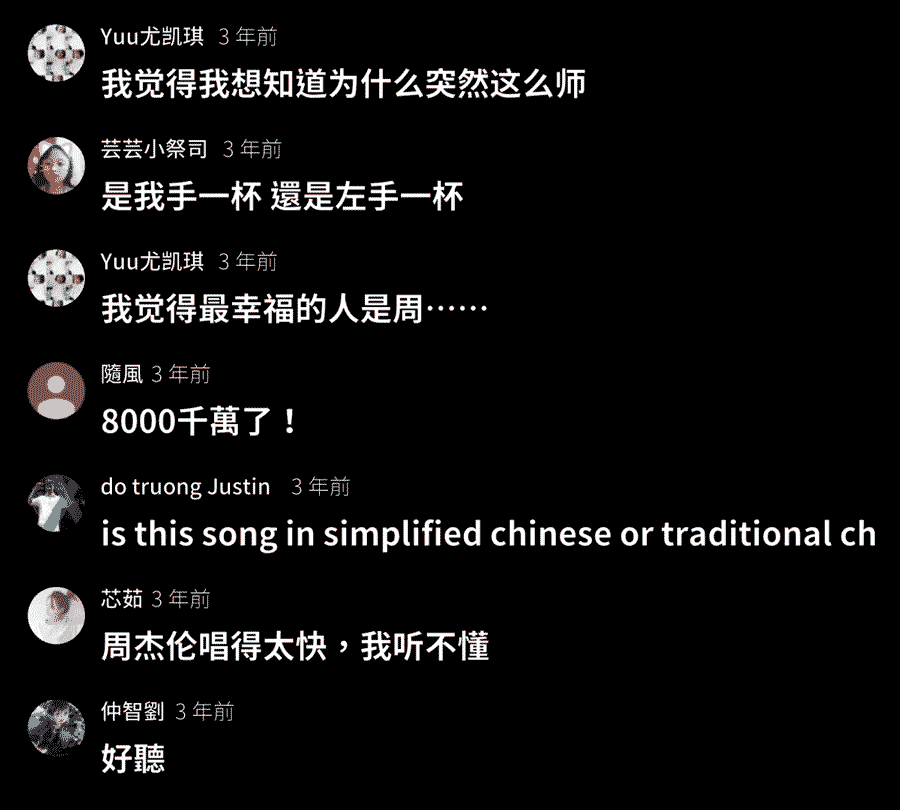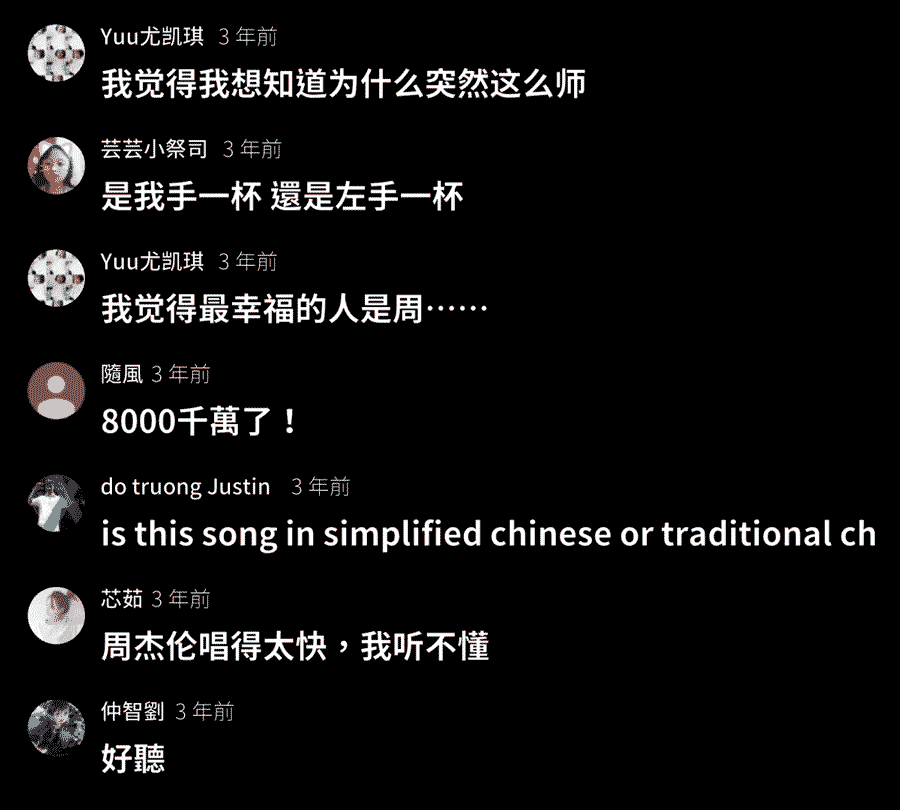 The team took the 11,480 comments up until June 11th, 2019, and the information is automatically arranged, converted, and saved in a picture format.
---
癡情玫瑰花

── Reassemble fonts


In this group of songs to be performed, this "癡情玫瑰花," which has an extreme connection locally, is a song with a special existence. It made everyone face the vulgar and amorous force. This was also the first time G.E.M. performed a song in Taiwanese at GMA. Due to the aforementioned many unique qualities, we decided to place the vulgar yet powerful lyrics onto the background of the stage and to use the most complicated and vivid color scheme of the entire performance, so as to maximize its vulgar and amorous nature.

Under the original font technology, to produce brightly-colored text animation, a lot of work hours were needed to break down the strokes and components. However, the JingXiHei VF font used was developed by Arphic Technology, and we could freely adjust the width and weight of characters, among which the strokes were pre-broken down, therefore, we were able to quickly make fine adjustments to the content of individual strokes and assemble them into the ever-changing dynamic display, putting together the approachable and brightly-colored performance effects that were seen in the end.


---
Stranger In The North

── Accurate perspective and audio visualization


This song came after 癡情玫瑰花 and the change in emotion was quite huge, so, visually, we needed a larger turn. Therefore, we picked laser that would penetrate the venue, break the space barrier, and connect with the imagery, while also kicking off for the following "Inner World."

The concept of "Inner World" comes from the text that we got the keyword streaming from in the beginning:
Carefully understanding and imagining, streaming is a concept that is both beautiful and crazy. In ancient times, when someone wants to communicate his idea, the fastest way is probably with a pigeon. Nowadays, idea comes in a new form. It no longer is a figure drawn by hand, but is often undistorted image and sound. Idea takes a new stance. Through the flow of non-visible information, it moves forward in the speed of light, like a portal which infinitely compresses the distance between two places. And next to you and me, we just need a device that can connect to the Internet, and this door can be easily opened to connect each other. There is a new city, a new world, behind the door.
The primary task of establishing the world behind the door is that certain cameras are able to film the correct perspective and effect. The simulator is once again used. Inside the simulated Taipei Arena venue, we set up a camera in the same position as that during the actual broadcast. The visual personnel only needed to design the images in this perspective and the simulator will automatically convert the images onto the LED monitor in the correct layout.
For this song, "Stranger In The North," G.E.M. will be rapping by herself. As a mentor in a recent famous hip hop show, this segment will inevitably need to make the audience go wild. We decided to import audio visualization to enhance the connectivity of the visual and auditory perceptions, so the dimension of the performance can reach a higher level, while still being hooked on to this year's theme "I SEE MUSIC." Because the subtle changes in sound within a millisecond is very sensitive, so in order to make the connectivity between the visual and music more obvious, through filtering methods, such as Low-pass, Band-pass, and High-pass, we decomposed the sounds before using them.
In addition, we set from the beginning to import her on-site voice and produce corresponding real-time effects, so as to make her live voice even more vivid.

---
Video of Entire Performance

---
30th Golden Melody Awards


Ceremony Chief Producer: Isaac Chen
Ceremony Producers: Evan Wu, 莊佩禎, 彭佳玲
Performance Visual Coordinator: 3AQUA Entertainment
Visual Supervisor: Guozuo Xu


G.E.M. - STREAMING

Performer: G.E.M.
Visual Director: Guozuo Xu
Production Coordinator: Hsin Yi Kuo


Interactive Visual Designer & Technical Integrator: Ultra Combos
Producer: Nate Wu
Project Manager: William Liu
Creative Director: Jay Tseng
Art Director: Lynn Chiang
Visual Designers: Hauzhen Yen, Ting-An Ho, Kejyun Wu, Glenn Huang, Chianing Cao, Yohji Chen
Calculative Visual Artist: Kejyun Wu
Technical Artist: Hoba Yang
Technical Assistant: Wei-An Chen
Lighting Designers & Lighting Simulation: Dachai Chen, Xiaocheng Kuo
Laser Photography Instructor: 林寶財
Laser Technical Consultant: 陳逸明
Laser Photographer: 陳柏全
Filming Technical Consultants: 劉昇峰, 郭東洲, ERA Television

Related Works:
Project Type:
Exhibition
Category:
Event, Exhibition
Client:
Taichung City Goverment
Agency:
Archicake Design
Year:
2018
Location:
Taichung World Flora Exposition
#現地創作
#NDI
#GrayCodePatterns
Taichung World Flora Exposition
Phototropic Synesthesia

As an entry corridor to the exhibition, the team attempted to create immersive "Rinsing Sensory" experience, so as to deconstruct the normal cognition of the audience on exhibition centers and complete a special welcoming flow in all aspects, from visual and auditory aspects to spatial and atmospheric aspects


Concept
With"Phototrophic Plants"as the main concept, image designs are projected onto plants, translating and enhancing the attitude and traits of the four main characters:"Rice, Fruits, Mushrooms, and Tea Leaves." Using the monitors as a patchwork through the corridor, through continually stacked and abundant images, along with unending compression of space, a fantasy blend of"organic"and"geometric"coexistence. This will allow the audience to obtain a sense of openness in all areas when entering the indoor exhibition area.

Detail
Due to the demands of this project, visual effect personnel had to work on the visual effects to be projected on the plants on-site. And because the site is mainly outdoors, in order to avoid light pollution, the personnel can only carry out this task at night. And not wanting to sleep late, the time is very limited. In response to this challenge, we developed two tools to complete this task.
Projector-Camera Calibration Using Gray Code Patterns

Simply speaking, through this technology, the visual effect personnel can obtain an image, and this image can be viewed as "the picture seen from the projector. The principle of this technology is gray code patterns are projected on the objects where we need projection mapping using the projector. A camera is set up near the projector lens to record the imaging of the gray code patterns on the video-taped objects. Through calculating the projector-camera relation using the computer, we are able to simulate an image where the camera picture is converted to one that is from the perspective of the projector.
Actually, there are already some ready-made tools to complete this function; however, the images produced from these current tools are all in black-and-white and the details and accuracy are just barely satisfactory. In response to the quality requirements of the visual effect personnel, the team developed this tool on their own.
Real-Time Visual production Using NDI

After obtaining the image from the perspective of the projector, the visual effect personnel still encountered an issue, before projecting, there was no way to preview the visual effect on plants. Therefore, the personnel hoped that there was a system that can provide real-time visual projection editing, where one wouldn't need to repeatedly calculate and export visual files. So, we made plug-ins for software such as Photoshop and After Effects, where the visual within the production software is immediately exported to the projection system. We used the Network Device Interface (NDI) as the interface for image transmission. NDI is a technology for internet two-way audio-visual signal transmission, where IP Ethernet networks is the main way of connection. Thus, this also let our system achieve a wireless working environment through WIFI.
2018 TWFE - Phototropic Synesthesis

Producer: Hauzhen Yen
Project Manager: Tim Chen
Creative Director: Jay Tseng
Art Director: Chris Lee
Technical Director: Nate Wu
Visual Designer: Chris Lee, Hauzhen Yen, Lynn Chiang, Glenn Huang, Alex Lu
Lighting Designer: Wei-Yu Chen


Sound Director: MUSDM
Sound Designer: MUSDM
Composer: MUSDM
Sound Mixing: MUSDM
Director of Photography: Ray.C, Book Ho
Assistant of Photography: Liang Fa Kan, Chen Kuan Chieh, Hsu Yuan fu
Production Manager: Jay Lee, Prolong Lai, Herry Chang, William Liu, Alex Lu
Assistant Production Manager: Peter Chen, Ya Ting Lin
Location Manager: Isabella Chang

Promote Video: Ting-An Ho
Promote Video Music Composer: IGLOOGHOST

Special Thanks: archicake design, Sean Yang, Sheng Yuan Hung, YUYUPAS, Tian Mi Xin Orchard


Related Works:
Project Type:
Event
Category:
Exhibition, Event
Client:
Universal Studio
Year:
2018
Location:
Shenzhen Happy Coast OCT Exhibition Center
#Installation
#Museum
#Kids
A Minions Perspective World Premiere


The First Minions Exhibition in the World Is Landing Shenzhen! A Minion Perspective Exhibition —Limited Preview Tickets On Sale Now. In cooperation with Universal and IE, Blooming Investment will bring the exhibition [A Minions Perspective] to OCT Harbour in Shenzhen on 8th, December, 2018. Welcome to the world of Despicable Me! Follow the footsteps and laughter of the minions and experience every scene in the movie It'll be a brand new trip full of interactive fun in cinematic settings. Come and enjoy your exhilarating experience with the yellow elves! In the exhibition, visitors could visit the famous Gru's laboratory, Girls room, moreover, more than 500 official minion products authorised by Universal are ready to go home with you! Interactive experience through lavish themes, AR interactions and other activities will also be presented in the exhibition. A minions perspective exhibition will bring warmth and positive energy to Shenzhen during this winter, providing "a must go spot" for you.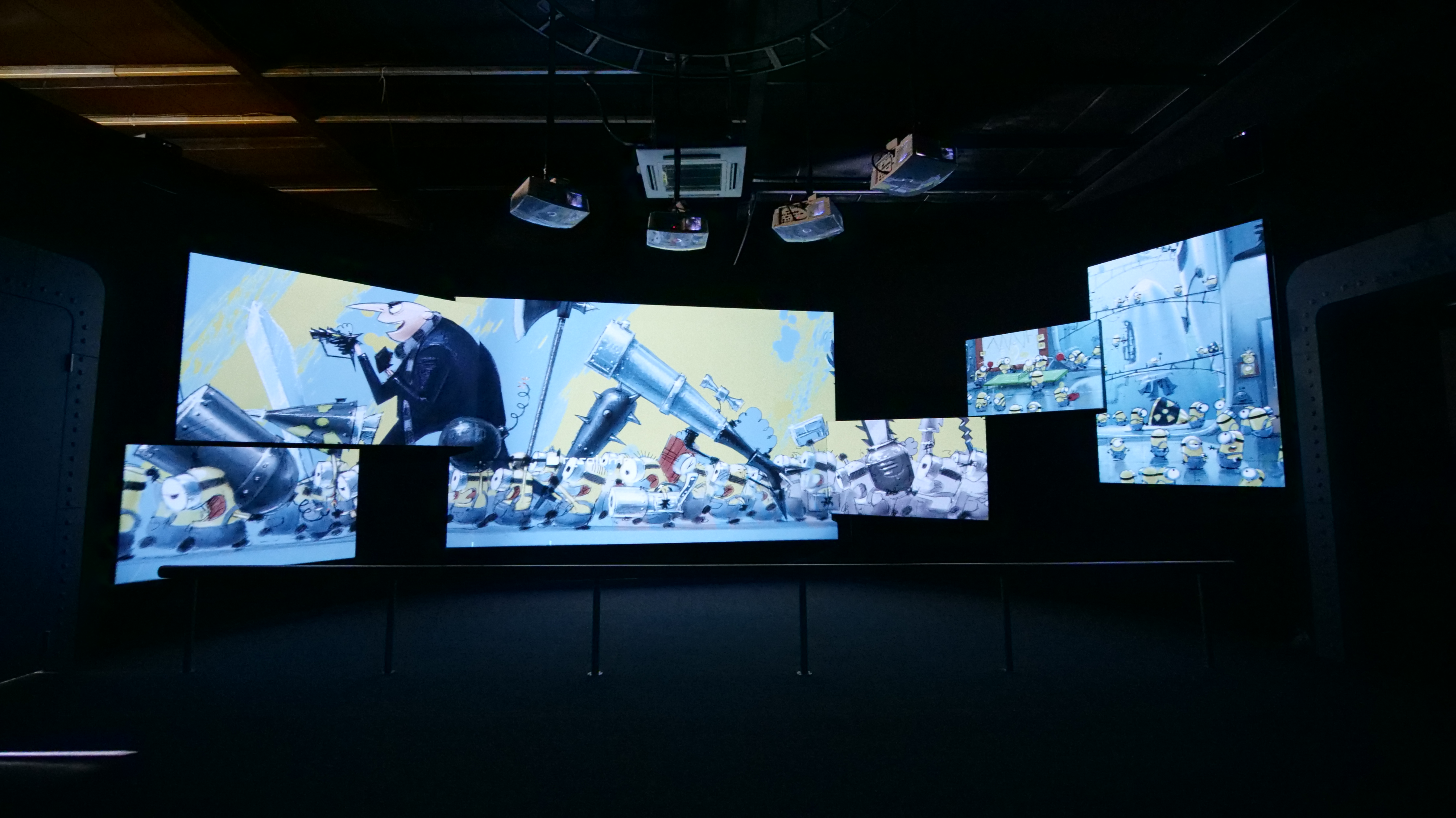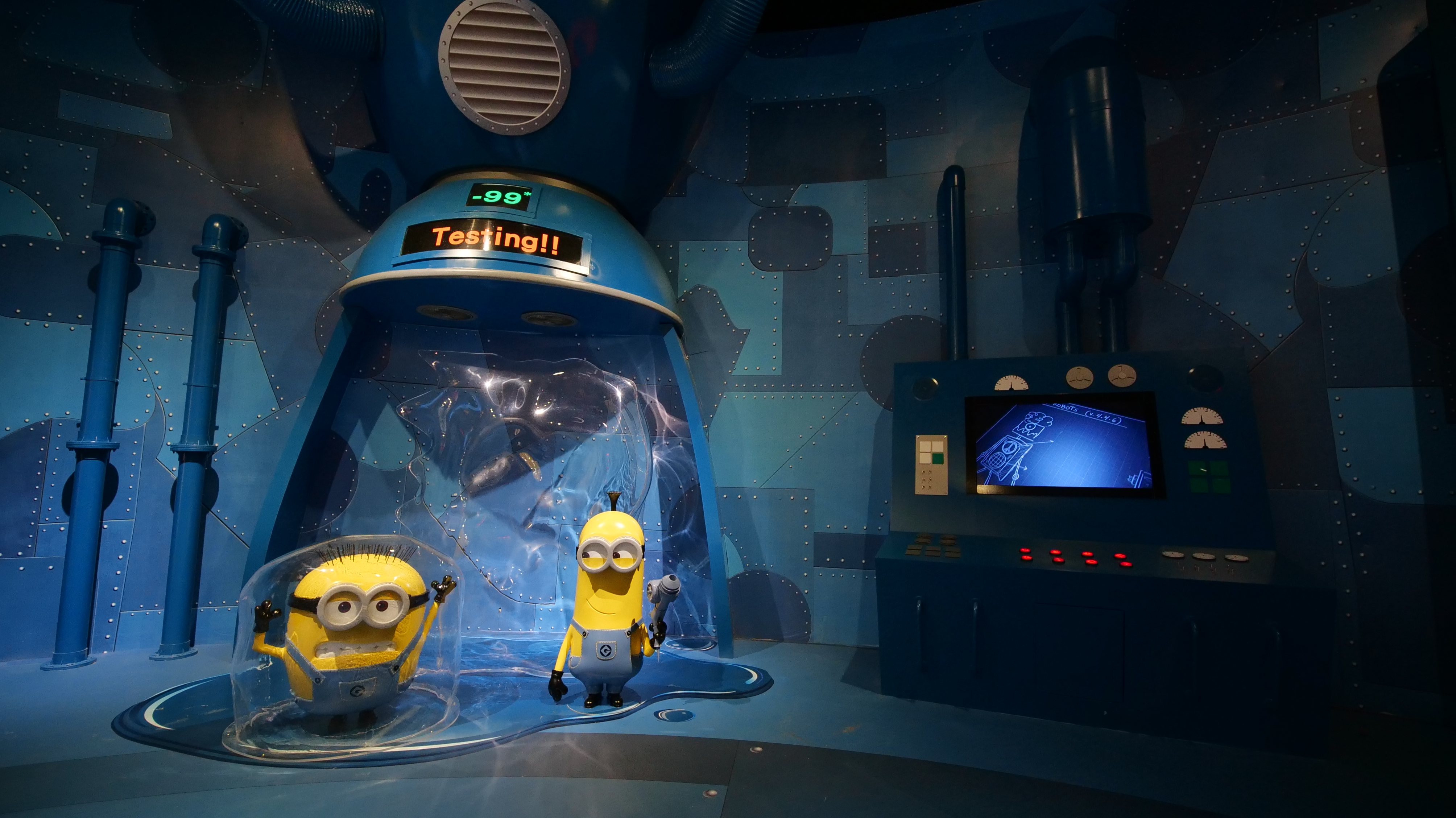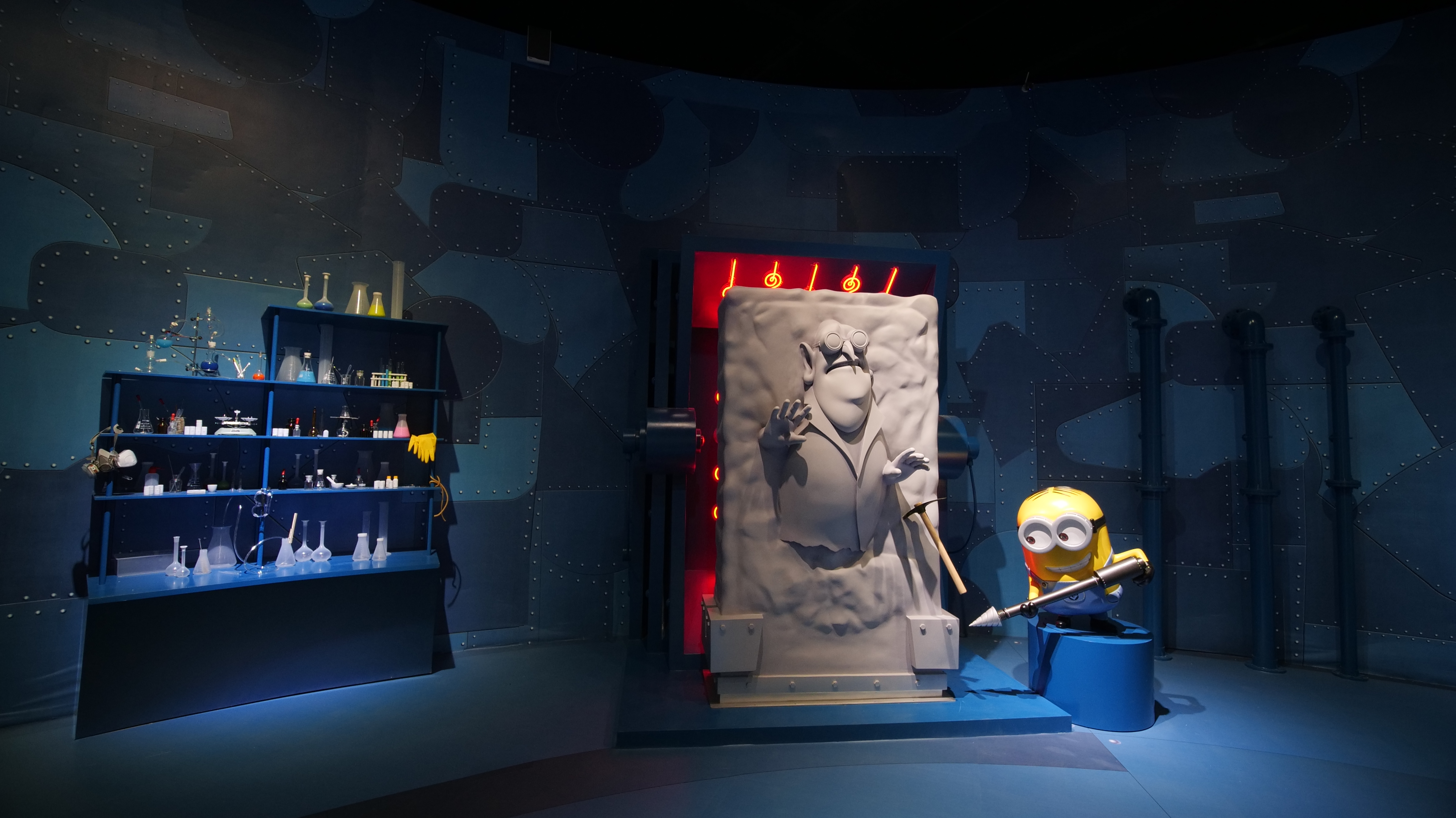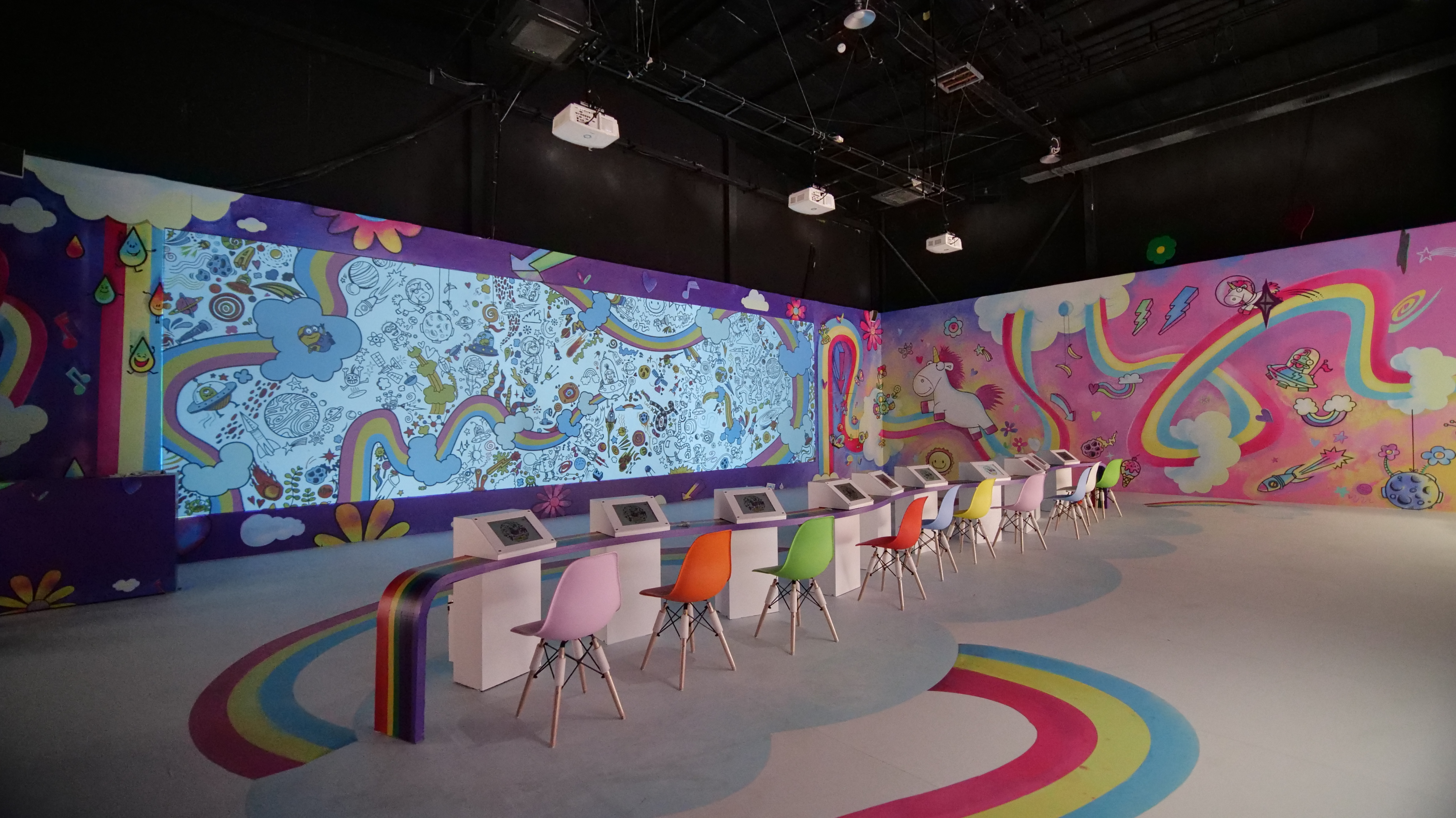 A Minions Perspective World Premiere

Interactive Visual Design & Technics Integration by Ultra Combos
Curation: BEAST KINGDOM CO., LTD.

Producer: Nate Wu
Project Manager: Prolong Lai, Alex Lu
Creative Director: Jay Tseng, Tim Chen
Technical Director: Nate Wu
Programmer: Nate Wu, Hoba Yang, Wei-An Chen(@chwan1 ), Herry Chang, Jarvis Chung, Tz Peng, Ke Jyun Wu
Art Director: Chris Lee
Concept & Storyboard: Chris Lee, Lynn Chiang, Hauzhen Yen, Glenn Huang
UI/UX Design: Chris Lee, Lynn Chiang, Hauzhen Yen, Glenn Huang, Chia-Wei, Lin
Graphic Design / 2D Motion Design: Chris Lee, Lynn Chiang, Hauzhen Yen, Glenn Huang, Dan Zhang
VFX: Chris Lee, Hauzhen Yen
2D Motion Design (Pre-show Theater): Jim Hsu
2D Motion Design / Illustration (Girls' Room / AR App): Lichee He
Assets Modeling / 3D Animation / Lighting (Gru's Lab-Fart Gun): Chienche Wang

Video Installation Solution : 甘樂整合設計有限公司
Hardware Lead: Herry Chang
Hardware Integration: Prolong Lai
Sound Design: The Flow Sound Design
Sound Design(Banana Pool): Meng-kuei Chang Sound Design
Director of Photography : Ray.C
Photography Assistant: Yaping Chang

Related Works:
Project Type:
Concert
Category:
Event
Client:
Blue Sky Production
Year:
2016
Location:
Taipei Arena
#Particle System
#Photogrammetry
#Point Cloud
#Fractal
#Audio Visualization
#LED Matrix
Tanya Concert LEMURIA


Singer Tanya Chua's 2016 World Tour LEMURIA revolves around the myth that in ancient times the earth was stunningly beautiful and replete with abundance; disease and violence were absent. When disasters later struck, the Lemurians entered the center of the earth to protect our world. Chua is one of these messengers, who uses music to soothe human beings and teach us how to love with her voice.

We were responsible for the visual designs of the three electro-style opening songs: "Strange species" (異類的同類), "Aphasia"(失語者), and "Film"(菲林), as well as the ECODOT LED Display in "Blank Space" (空白格).

The Songs as the Essence

In the beginning of the creation process, the team talked about how the melodies and lyrics of the three songs made us feel and how they inspired us visually. We brainstormed and came up with a few keywords and put these words into context for the storyline and the aesthetics settings.

Particle System
We developed a particle system to faithfully represent our aesthetic ideas. Point clouds were utilized as the key component of the visuals, simulating smoke, wind, and fractals to create a dynamic, psychedelic ambiance. With the use of Kinect v2, we are able to retrieve the point cloud information from performers in real time, thereby simultaneously layering the performer's action on top of the pre-made particle landscape.